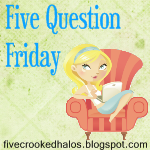 A week til Christmas! Can you believe it?!?! Has it flown by quickly for any of you like it seems to have flown by here?? Woweee!
1. Do you regift...and if so, do you have a regifting horror story?
I have never regifted...just don't see myself much as a regifter. However, I suppose with just the right WRONG gift it could be a possibility. :p
2. Do you know what you are getting for Christmas this year?
I have no idea. My husband has asked me several times and each time I tell him what I want. Thing is, each time, it's a different response. I know, how horrible of me. LOL I just want him to be able to LET THE KIDS DECIDE. If I get a marble, well then, I get a marble! At least they picked it out! :) But I figure if I give him many, many responses then they still have to make a decision. :) Make them (and when I say them I mean HIM) make a decision! (Yes, yes, again, horrible of me!)
3. Who brings the most gifts in your family, you or Santa?
Usually me. But this year there are several Santa's that have contributed to my wee little ones for Christmas. I'm so excited! They are pretty much getting everything they want this year! Except for a guitar...not ready to go down that road just yet, need some more discipline before we do that one!
4. What store do you love to buy jeans from?
Sadly, Walmart. Simply because they are so dag goned cheap! If I could afford to buy nice, well built jeans, I certainly would! You know what I would LOVE to have?
THESE!!
Do those not look like the
most
comfortable things ever?? Hey, I'm
all
about comfort!
5. Christmas meal: Big, All Out Meal or Snacks and Apps?
We usually do about the same as what we make for Thanksgiving. Only, Thanksgiving turkey is served, Christmas is ham. (I love me some ham!! Yum Yum!)