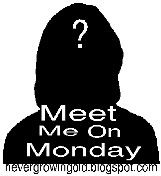 Questions:
1. Do you like your ice cream in a dish, waffle cone, pretzel cone, sugar cone or cake cone?
I'll take it in all of the above please! Would love to have them in cake cones but never have them or remember to buy them, so usually do the ice cream in a bowl. (A big one!)
2. Do you read the newspaper daily?
Daily? Meh! No....only Sunday's usually...and just the coupons. :)
3. Marinara or meat sauce?
Can I vote neither? Of course I can, it's my blog. Neither.
4. Last time you cried?
I am a crier. I get emotional over many things. But the last time I cried? Ummm, last weekend...when the husband and I got into an argument. :*(
5. What word/phrase do you find really annoying?
I don't like when people pronounce familiar as
fermiliar.